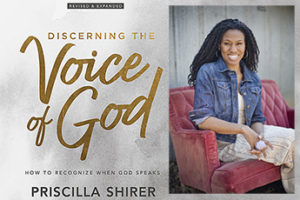 All ladies are encouraged to come and join us in our Fall Bible Study.  We are diving into a series by Priscilla Shirer titled "Discerning the voice of God".
Though this time together we experience true fellowship with other Sisters in Christ and have an amazing opportunity to build stronger relationships with one another, but most importantly we will grow in our relationship with Jesus Christ.  Our desire is for every lady to have the chance to come and be blessed by this life changing curriculum, because of that, we have the same lesson twice each week, Monday nights at 6:30 and again on Saturday morning at 10:00.  You can choose the one that works best for both you and your family.
We are excited for all that God is doing! We are praying for you and look forward to spending this time together.
First Study – Saturday, September 23 from 10:00 – 12:00
First Study (repeat of Saturday) – Monday, September 25 from 6:30 – 8:30